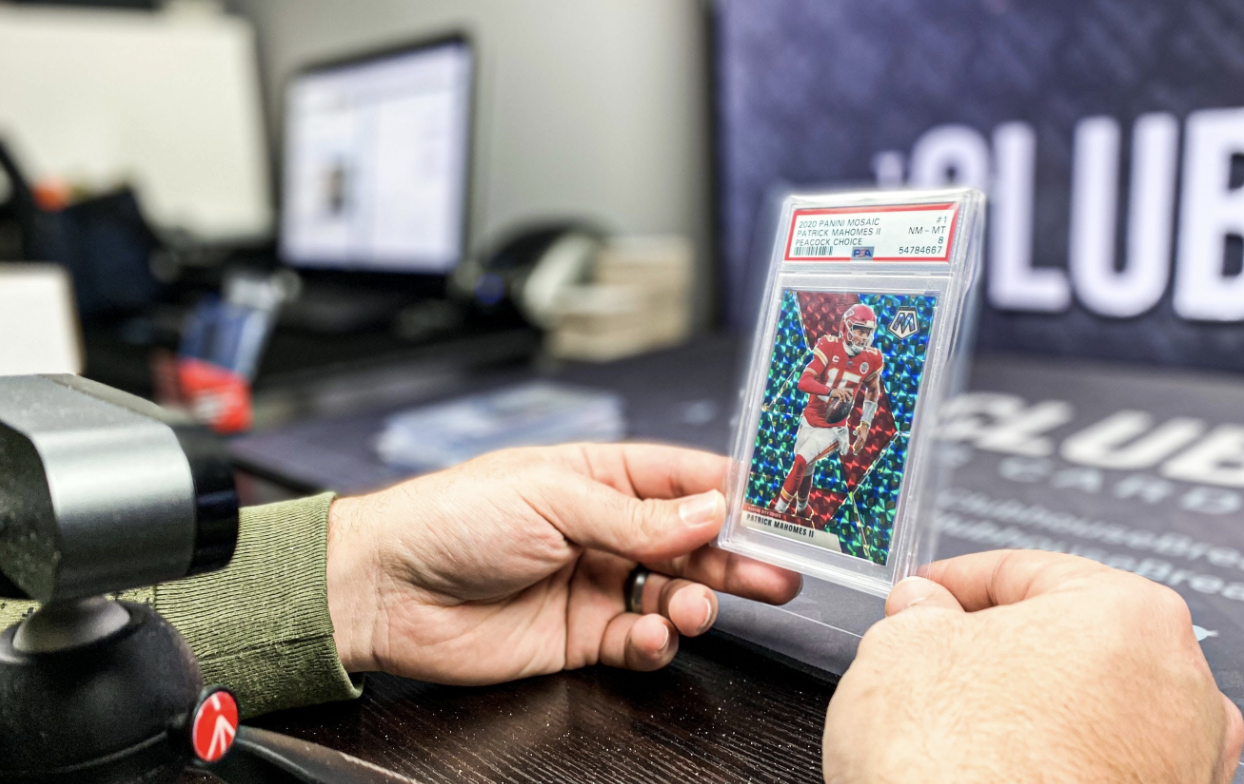 We've interacted and worked with many case and box breaking companies over the years.
Here are some of the top-ranked sport card breakers in 2021 based on our data:
These breakers have earned their spot on the list by constantly improving customer experience, having great reviews, and a simple online buying process. They all are raising the bar for other sports card breakers.

Top 3 Sports Card Breakers
| | | | |
| --- | --- | --- | --- |
| | ⭐️ The Clubhouse | MOJObreak | Layton Sports Cards |
| Years Breaking | 13 Years | 10 Years | 10 Years |
| | | | |
| Break Methods | | | |
| Random Team | ✔ | ✔ | ✔ |
| Pick Your Team | ✔ | ✔ | ✔ |
| Random Hit | ✔ | ✔ | ✔ |
| Pick Your Price | ✔ | | |
| | | | |
| Sports Offered | | | |
| Basketball Group Breaks | ✔ | ✔ | ✔ |
| Baseball Group Breaks | ✔ | ✔ | ✔ |
| Football Group Breaks | ✔ | ✔ | ✔ |
| Hockey Group Breaks | ✔ | ✔ | ✔ |
| Soccer Group Breaks | ✔ | ✔ | ✔ |
| Wrestling Group Breaks | ✔ | ✔ | ✔ |
| UFC Group Breaks | ✔ | ✔ | ✔ |
| NASCAR Group Breaks | ✔ | ✔ | ✔ |
| WNBA Group Breaks | ✔ | ✔ | ✔ |
| Pop Culture Group Breaks | ✔ | ✔ | ✔ |
| Memorabilia Group Breaks | ✔ | ✔ | ✔ |
| | | | |
| Community | 10/10 | 9/10 | 9/10 |
| Website Navigation | 10/10 | 9/10 | 8/10 |
| Pricing | 10/10 | 8/10 | 9/10 |
| HD Streaming | ✔ | ✔ | ✔ |
| Customer Service | 10/10 | 10/10 | 10/10 |
| Rewards Store | ✔ | | |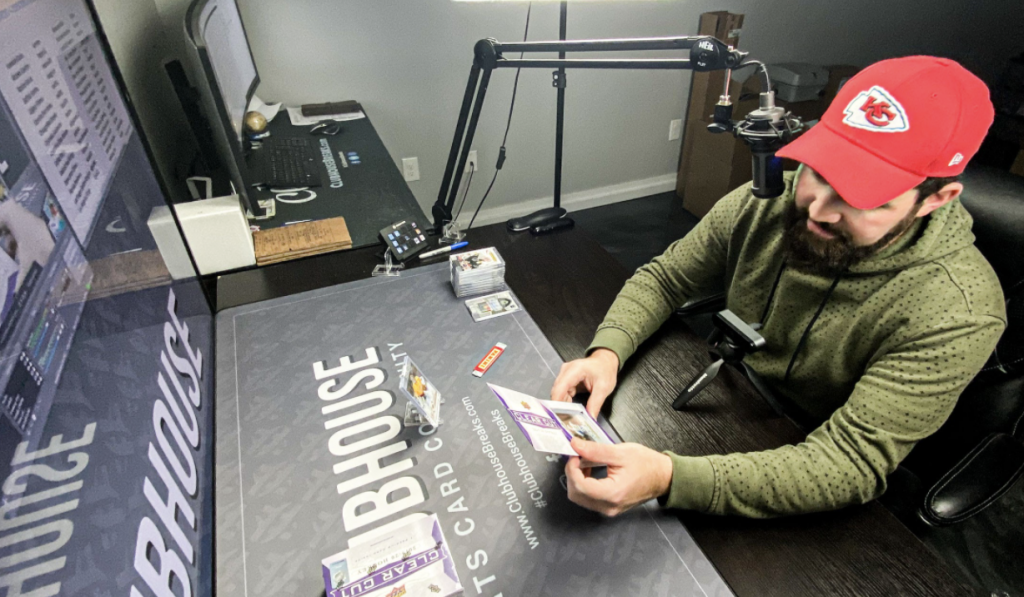 The Clubhouse Breaks
If you're looking for a quality breaker, use us, The Clubhouse Breaks!
We are a breaker who has been in the industry for 10+ years. With us, you get honesty, fair pricing, quality, free shipping, industry knowledge, and a community that you actually would want to join.
Our top breaking methods are:
Pick your Team
Random Team
Random Hit
We live stream breaks every weekday at 4 PM EST and you get access to member benefits you'd actually use.
Here's the process we follow:
Join a break (every weekday we update the page with new breaks)
You'll get a text when the breaking session is live
Watch the break here live or on our Youtube Channel after the fact
In a few days time you'll receive your cards in the mail
Here's what it's like to watch the group break. The day you buy a break from us, you'll get notified via text when the break is starting. You can also see when the next break is coming up at the top of the page.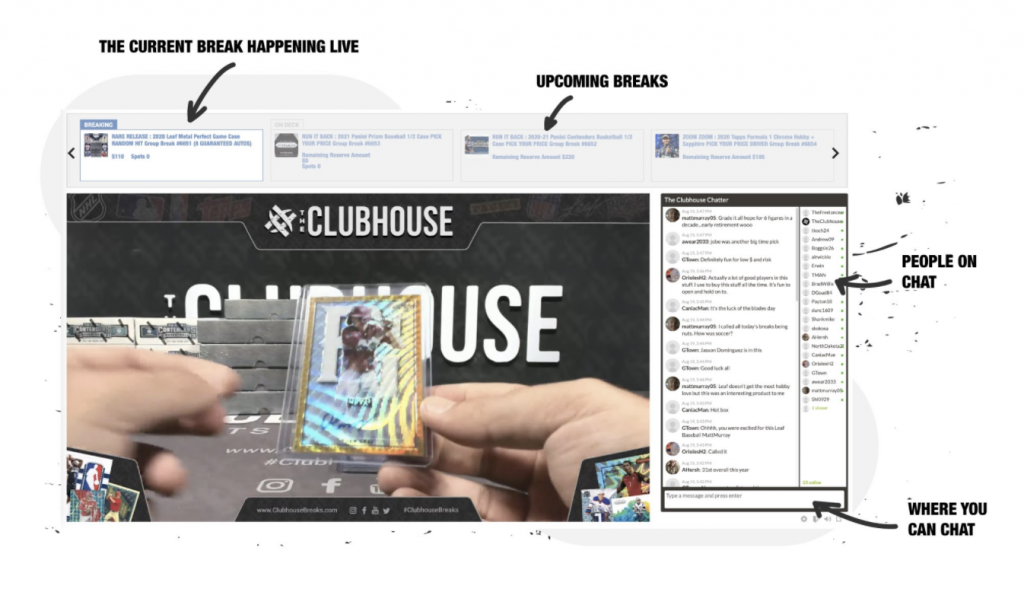 What Are Breakers in The Sports Card Industry?
Sports card breakers are businesses that purchase sports cards in bulk for the sole purpose of breaking them down and selling them as individual sports cards. The breaker typically buys large cases from a manufacturer, then sells them online.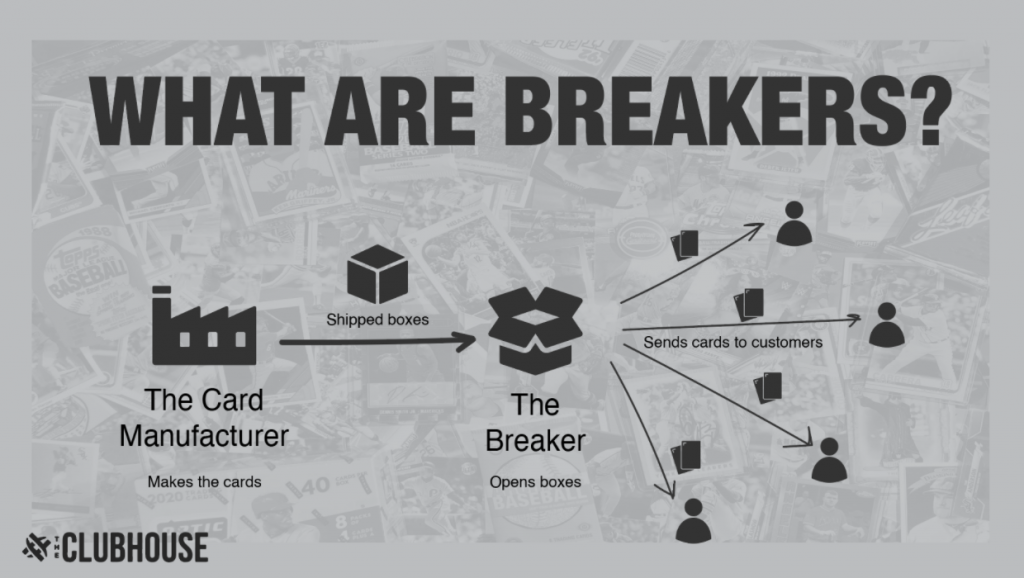 A breaker can be one person in their basement or a small company of 2-15 people. Anyone can become a breaker, but that's why it is so important to know who you're buying from. You could get burned easy.
Here are the top things you should know about sports card breakers:
Sports card breaking is becoming a more popular way to buy sports cards online (vs. buying individual packs from eBay or Facebook.
People buy from breakers not simply for the sports cards, but also because it's a great place to build community and chat with each other online.
Breakers are an integral part of the sports card collecting world. Many collectors or hobbyists use breakers.
Breakers are popular with children and young adults because it gets them excited about sports and sports history.
The most common sports card case break types are Pick Your Team, Random Team, and Random Hit.
Buying from a breaker honestly requires luck. There is no guarantee you'll go home with any card, let alone any that are valuable. However, every day there are still thousands of people who go home with extremely valuable cards.
There's a lot of specific sports lingo used in the sports card world like "case hit," "parallel card," "auto patch," "weight class," and more. It'd help if you knew them, but it's not a requirement.
To read more:
How Do You Tell if a Sports Card Breaker Is Legit?
Here are the tops signs you've found a great group breaker:
A breaker that is well-established will:
They have 2+ years in the industry
They have a website
They Include sleeves and proper packing materials
Make it clear where all of their product is coming from
Everything will be factory sealed at the time of breaking
It will take 1-2 weeks for the cards to ship to you
The breaker will ALREADY have the product in hand BEFORE selling spots
A quality breaker will have at least two online outlets they promote themselves on and their website.
For example, at The Clubhouse customers watch each break on our website and chat with each other in the chatbox. We of course post on social and stream our box breaks to Youtube, but that's not the main platform we use to communicate with our customers.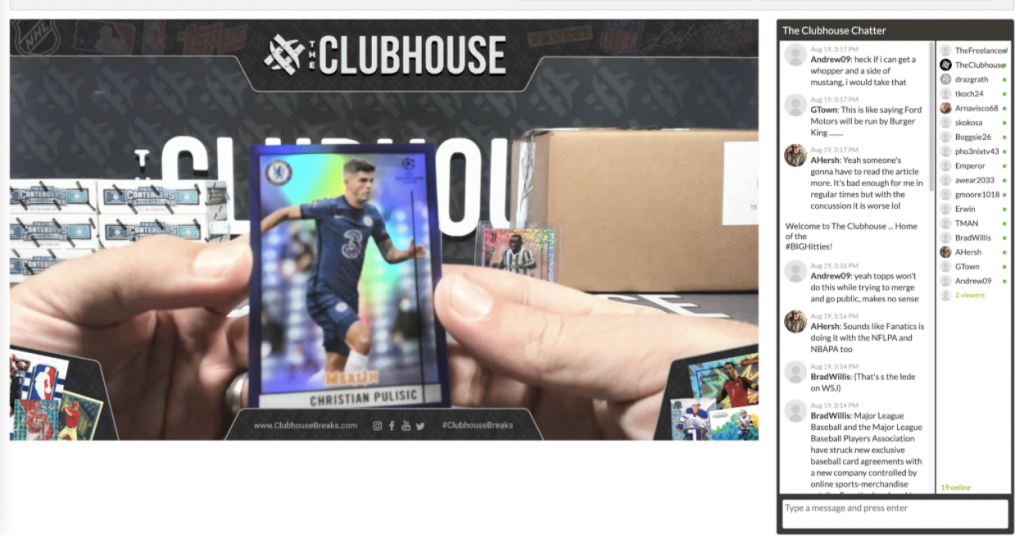 5 Red Flags to Lookout For: Sports Card Breakers
To make sure you don't get burned, here are some red flags to look out for when looking for a sports card breaker:
If their Facebook or Twitter page has little activity
If their social or website posts don't include any educational or industry content
If they don't have a private online group or place where members can ask questions
If they only promote their brand and their breaks to purchase
If their online chat vibe is awkward or you get a weird feeling from it
Point number five is key. The vibe of any stream has a huge impact on the enjoyment factor and can tell you a lot about the community. No one wants to be stuck in a chat with a bunch of insufferable people. Any good group will have a solid amount of comradery among the community members.
Conclusion
The sports card industry is growing. Every month there are new sports card breakers that pop up and will try to sell you cards.
It's important to only work with the best and top-breaking companies to increase your chances of finding valuable cards and community.
With The Clubhouse, we are straightforward and honest about doing business. We will always shoot you straight and value customer service and experience.
Create your free account with us here to get started.