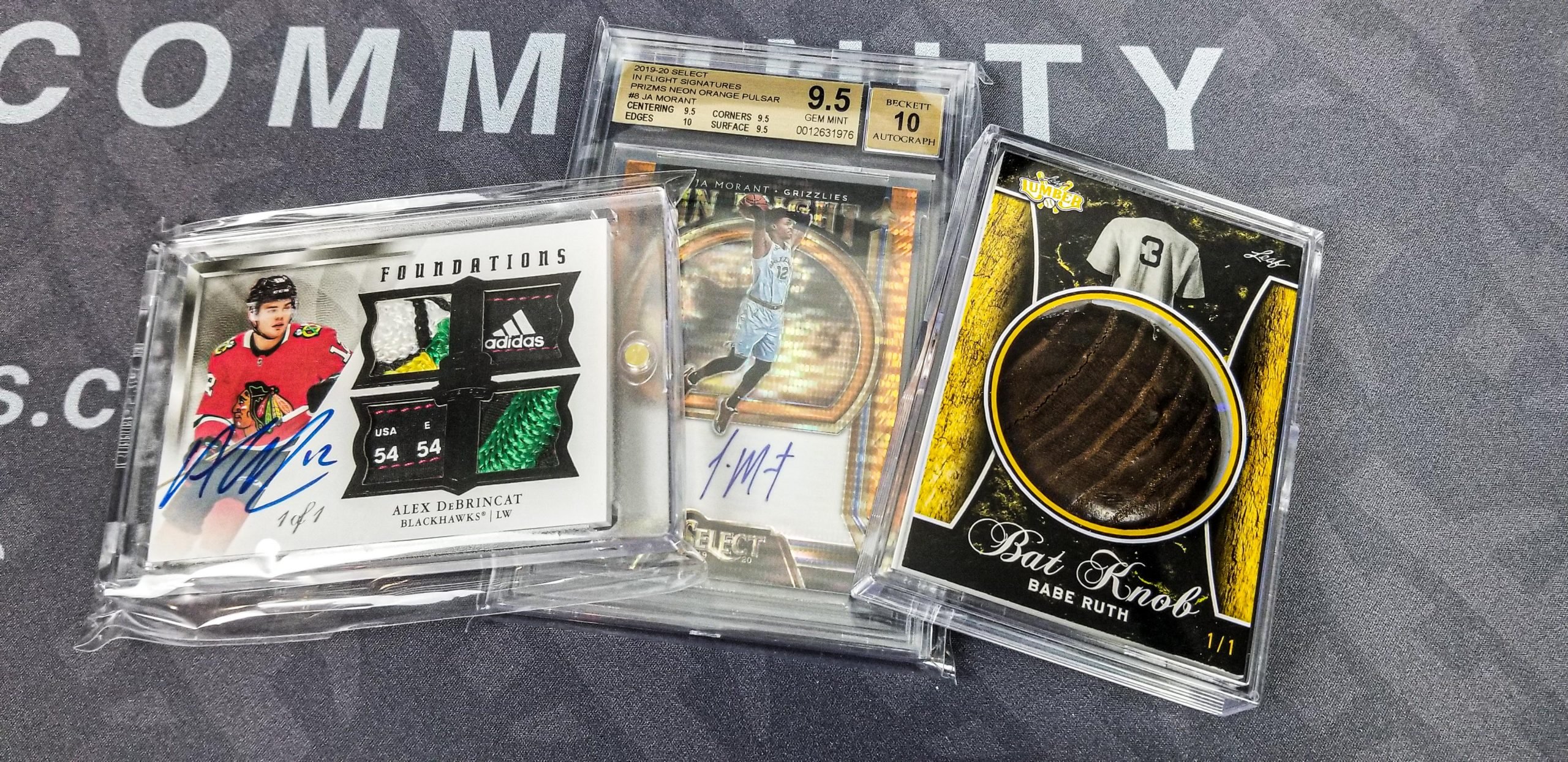 If you're new to the sports card industry, you might be asking yourself the question "are box breaks worth it?"
A live box break is essentially when a group of people purchase a box full of sports cards. The breaker (i.e. the seller) opens the cards during a live video session and the users (i.e. the buyers) watch and hope to obtain rare and valuable cards.
For buyers, this method of purchasing increases their chances of obtaining a big hit while reducing the cost to participate in the hobby. Hundreds of thousands of people participate in box breaks each week, but does that mean it's worth it for you?
Are Box Breaks Worth It?
Yes, most box breaks are worth the investment. However, be careful not to overpay for your spot. Sports card box breaks typically range between $5-$1,000+ depending on two main factors; the first factor is the product type (high-end or low-end boxes). The second factor is your break's format (i.e., Pick Your Team, Division Break, etc.).
If you're curious about how box breaking works or want to participate in one, continue reading and we'll give you all the details you need to know when getting started!

How Does a Box Break Work?
Box breaks are done in many ways, but the most common group break includes a seller (the box breaker) and the buyers (several online users).
In the simplest way, here's how a box break works:
The breaker creates and promotes the break on an online platform (their website, social media, or online marketplace)

Users purchase a spot in the break using the breaker's online platform or store

Users receive details about the break and how to watch it online

The breaker hosts the break on their online platform

Users join and interact with the breaker and other users by commenting in the chatbox

The breaker cuts open the box and begins opening the packages of sports cards one-by-one until the box is empty. This happens live and all users are able to see.

Depending on the box break type, each user will be awarded their cards and will receive them by mail.
Common Box Break Types
If you want to participate in a box break, there are multiple ways to do so.
Listed below are the common types of live box breaks you can participate in:
| | |
| --- | --- |
| Break Type | Description |
| Pick Your Team (PYT) | In this break, you pick one team or several teams. When the break is live, you'll receive every card pulled for the team(s) chosen. Pricing typically depends on the team's strength on the checklist. |
| Random Team | Everyone pays the same price and is assigned a random team. |
| Serial Number | Every user pays the same price. But this time they are assigned a random number, and if that number matches a card's serial number, they win the pulled cards. |
| Draft Style | In draft style, breakers use a program to randomize the draft order. After all of the cards are pulled, the person at the top calls first dibs on the cards they want. After that, the second person can choose from the remaining cards, and so forth until all cards are selected. |
| Division Break | In this break, users buy an entire division. For example, you might buy one out of the eight NFL divisions and receive all the cards from that division. This method is usually more expensive than the others, but it also gives you a higher chance of getting a big hit. |
| Pick Your Price (NEW) | This is a new breaking style created by The Clubhouse, allowing collectors to set the individual team prices. This lets you bid against other members to receive the best price. Click here to join a Pick Your Price break box. |

Avoid These Things When Looking for a Sports Card Box Breaker
Purchasing breaks are rewarding and fun. But sometimes it can be dangerous if you're not careful.
As the industry grows, more breakers are popping up and looking for changes to make money. The big danger here is that you might get cheated and your money stolen from a fake breaker. That or the breaker is so new that they don't know what the heck they are doing. You'll be treated unfairly and you'll end up being frustrated.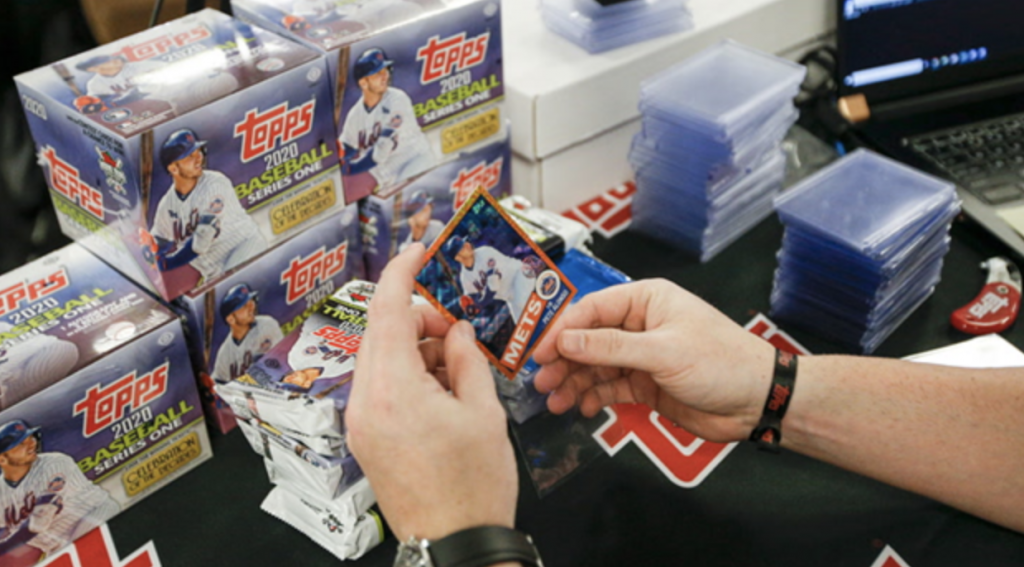 We want to save you from this madness. So, we've created a list of just a few things you need to be watching out for when looking for a breaker:
Consider how long the breaker has been in business. If the company seems relatively new to the industry, take time to verify they provide an honest and transparent service. The longer a breaker has been in business, the more likely they are to have already worked through major issues as it relates to customer service and internal operations.
Check the quality of their website. Ask yourself, is it well designed? Does it look like it has been put together in a hurry? If the site is well organized and seems professional, you'll have a much better overall experience.
We do not recommend purchasing sports card breaks from eBay, Facebook, Etsy, or other marketplaces. Why? Because it's challenging to know who you're buying from, the overall experience is terrible, and it's easy to find yourself frustrated with the purchasing process.
What Are The Chances I Hit it Big?
No matter which breaking method you choose, you always have a chance at uncovering the next Holy Grail!
However, the fewer people involved in a case break, the higher your odds are of hitting it big. Yet, many people still hit big in box breaks every day and find unique cards with teams you would never expect. There are aspects of both luck and strategy.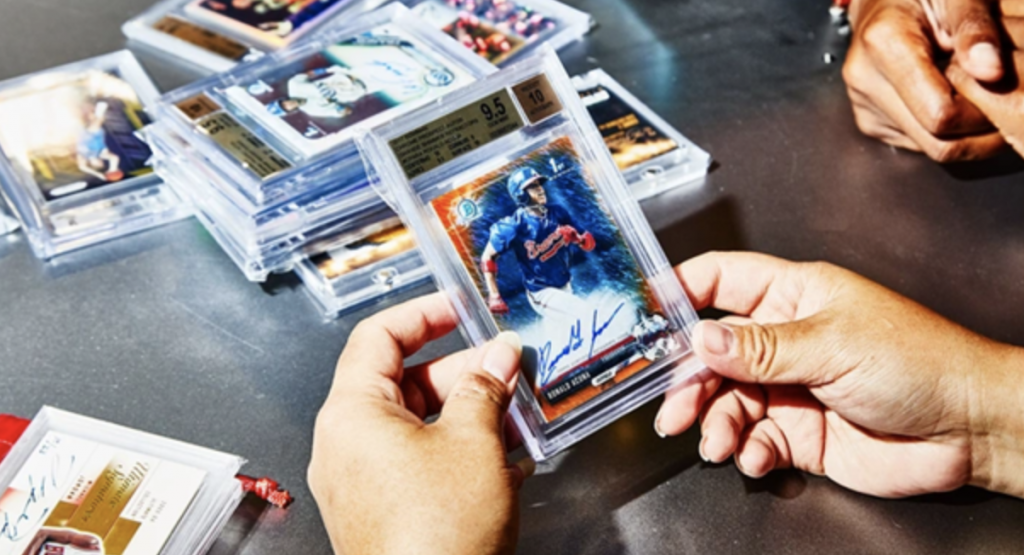 The method of group break involves more of the strategy when joining box breaks.
Choosing a Pick Your Team or Random Team are the most affordable types. But typically this lowers your chances of consistently winning bigger hits.
Breaks like Serial Number and Random Division are more expensive, but you have a higher chance of hitting big.
How to Pick A Box Breaking Method
Choosing a box breaking type might be hard at first. But it does get easier as you go on. Your strategy will improve as you participate in more breaks.
To help, here's some strategies and tips to keep in mind when choosing a breaking method:
Expensive Teams vs. Cheap Teams: You'll tell immediately that some teams that are more desirable than others. These teams will ultimately be more expensive. However, less valuable teams don't necessarily mean you will come out with low-value cards. You may end up with a huge hit!
The Waiting Strategy: Some people choose to pick up the last 4-5 teams intentionally within a team style group break. This strategy often gives them the chance to walk out with both some hits and the best value.
The Best Option: Those new to the industry often choose either the Random Team or Pick Your Price breaking method. Both are affordable and have had a history of pulling big hits for lots of people.
The Pros & Cons of Purchasing a Sports Card Box Break
The sports card breaking industry isn't all flowers and sunshine. There are many positives, but there are some cons.
Below we've listed some of the top positive and negatives of participating in a sports card group break:
| | |
| --- | --- |
| Pros | Cons |
| You can get high-value cards for a low price | The chance you'll get nothing at all |
| It's highly entertaining to watch | You have to wait to receive cards |
| You can trade with others users | There are sometimes shipping costs |
| It's a great place to meet new like-minded people | If you're not careful, you'll have to deal with dishonest breakers |
| It's extremely community-centered | |
How do I get started with box breaking?
Want to participate in a box break? It's never been easier for you to take the first step in your sports card adventure and benefit from an experienced breaker.
Below are the steps to participating in a box break with The Clubhouse, the longest running and fastest growing sports card community in the world.
Step #1: Create a FREE account
Before you can purchase a spot in a box break, you need to create a FREE account with us.

Step #2: Choose Your Break
Shop our breaks here and choose one that works best for you. We have football Random Team breaks, Pick Your Price breaks, Pick Your Team breaks, and more!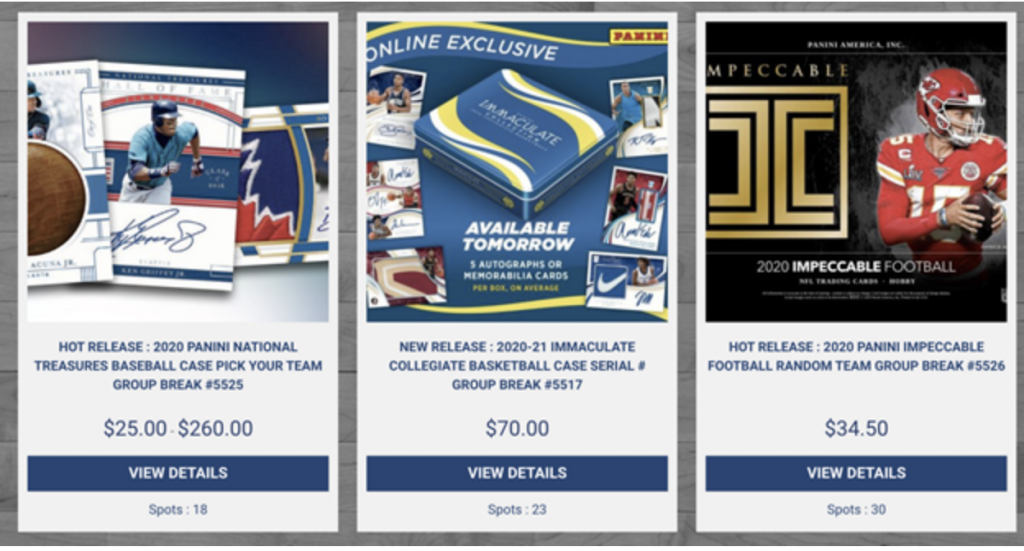 Step #3: Add to Cart
Once you've signed in, head back to Shop Breaks and click on the box break you want. If the break is in stock, it will show the option to add the break to your cart.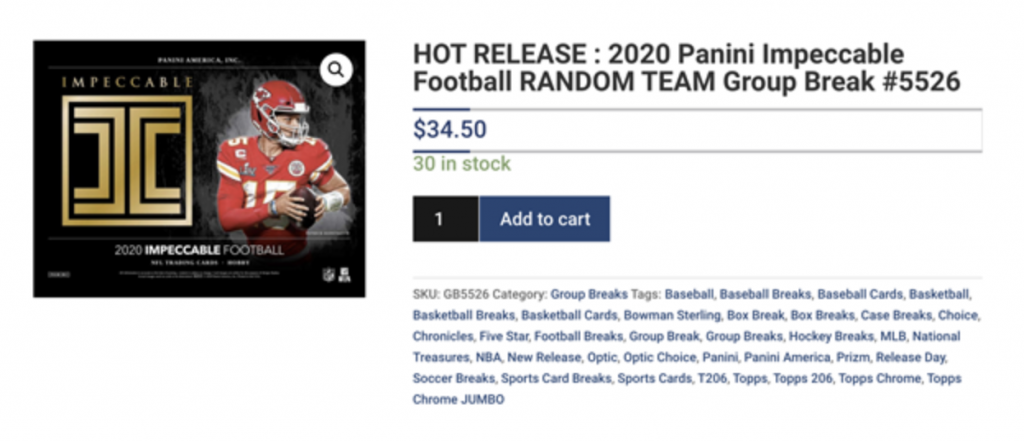 Step #4: Make A Payment
Go ahead and purchase your break or add other breaks to your cart. Be sure to keep your spot by clicking the "View Cart" button. You have 5 minutes to finish a purchase before your spots are released for other buyers to purchase.

Step #5: Watch the Break Live
The Clubhouse sends a text message to your mobile number with a link to watch the break live when your break begins. This keeps you in the loop so you'll be online when the break takes place.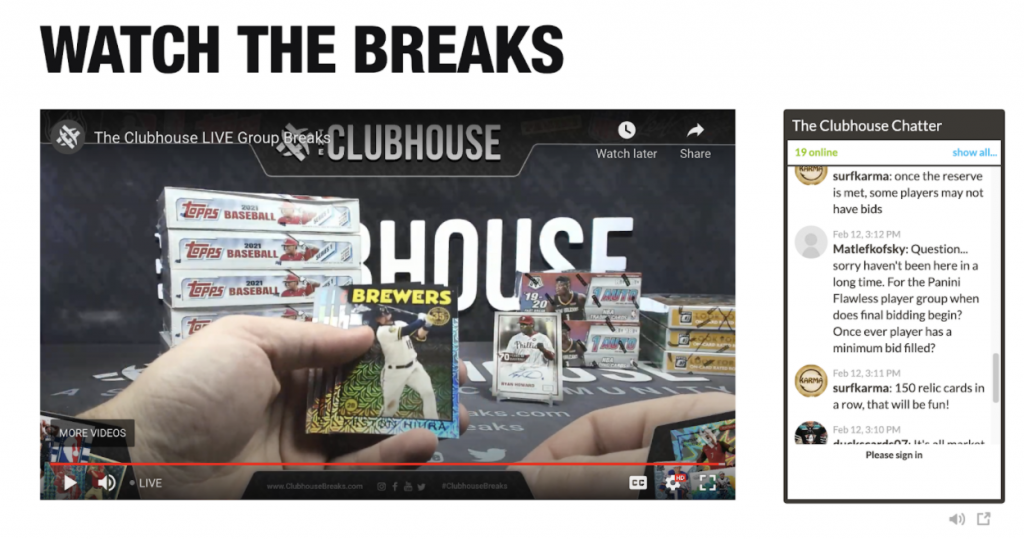 Step #6: Cards are Shipped
After the box break is over and you know what hits you've scored, your cards will be shipped directly to you. We ship out cards weekly and take extra precautions to make sure they arrive safely.
Step #7: Show Off Your Mailday on Social Media
Once you get your cards, celebrate your #mailday by showing them off on social media! Post your picture and tag us @clubhousebreaks or use the tags #clubhousebreaks and #mailday.