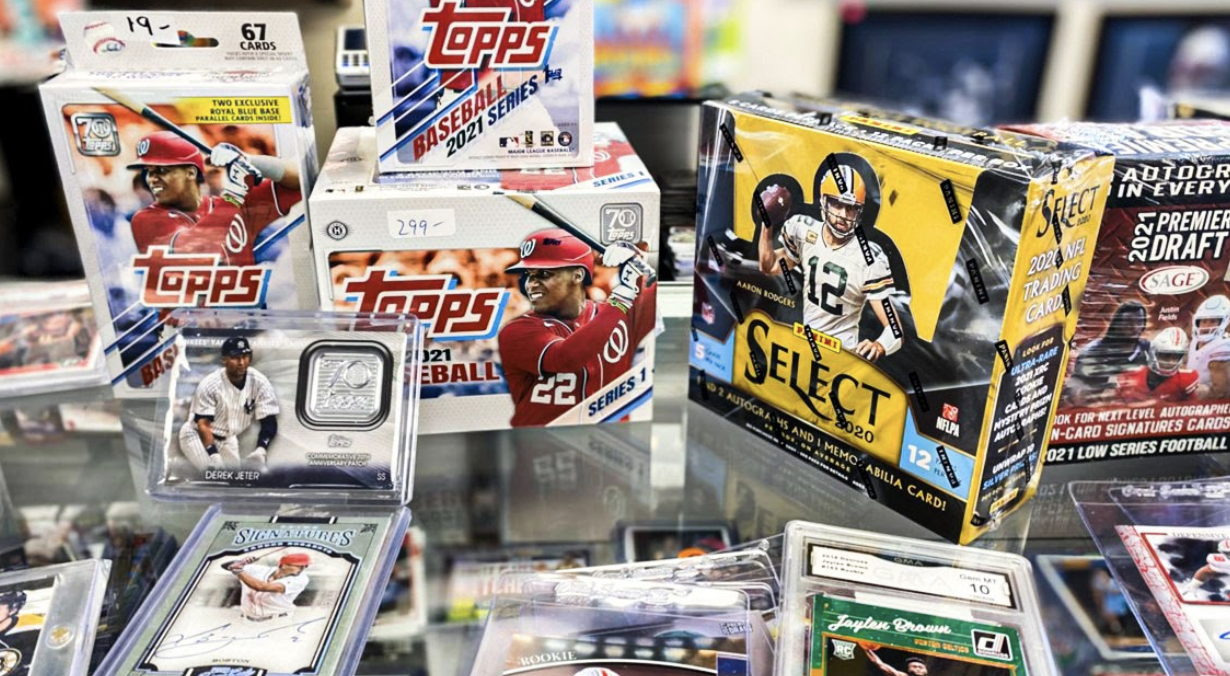 First off, yes, you can buy sports cards online.
But if you're looking to know the best place to buy from, we've got the simplest answer for you:
The best place to buy sports cards online is through a sports card breaker. It's affordable and provides the best value and experience for the money. eBay, Facebook, and other online retailers are good for purchasing specific cards you already want.
Continue reading for a detailed look into where the best places are for buying sports cards online.

The Top Places to Buy Sports Cards Online
Based on our data and customer ratings, we've listed the best places to buy sports cards online:
The Clubhouse (Breaker)
Backyard Breaks (Breaker)
WhatNot (Marketplace/Breaker)
eBay (Marketplace)
Loupe (Marketplace/Breaker)
StockX (Online Retailer)
| | | | | |
| --- | --- | --- | --- | --- |
| Company | Type | Rating | User Experience | Price |
| The Clubhouse | Breaker | 4.9 | 4.9 | Competitive |
| Backyard Breaks | Breaker | 4.9 | 4.7 | High |
| WhatNot | Marketplace/Breaker | 4.1 | 3.8 | High |
| eBay | Marketplace | 3.8 | 4.0 | High |
| Loupe | Marketplace/Breaker | 4.3 | 4.4 | High |
| StockX | Retailer | 4.2 | 4.0 | High |
Sports Card Breakers (The Clubhouse)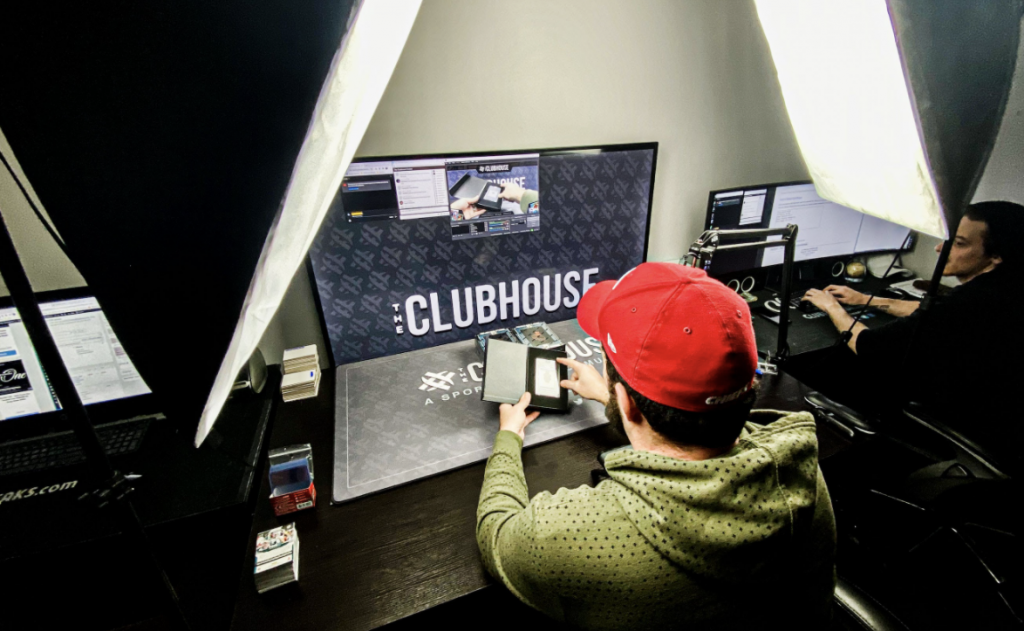 A sports card breaker like The Clubhouse and Filthbomb Breaks are the highest on the list because they provide the best value and hits for the money.
What is a sports card breaker?
The breaker is a business (or individual) that purchases unopened boxes or cases of sports cards from a card manufacturer at a discount. The breaker then sells multiple "spots" to users and opens them via live stream. Users will receive random players based on the team they selected or nothing at all. Aftward, the cards are shipped to the buyers via mail.
Here are the top things you need to know about buying from a breaker:
You can't choose the specific cards you want to buy. Instead you pick a team and it's at random who you recieve.
Breakers typically provide more quality hits for the price
You can engage with the breaker via online chat and ask questions
Breakers handle your cards directly and ship them out to you after the break
Breakers are entertaining and fun to watch
Breakers help take the sports card industry to the next level. Sure, they are affordable and bring you the hits, but where they really shine is offering you community and entertainment.
At The Clubhouse, on our daily live streams, we often talk about the industry, hot players, rookies, and investment opportunities. Everyone enjoys it, including us!
The Breaking Process
Here's the process almost every sports card breaker follows for each group break:
Spots "open" in the group break
Users purchase spots online (by picking a team or spot)
Users join the online live video
Users interact with the other users and the breaker via a chatbox on the website
The breaker starts the break and begins opening boxes of cards and cases
The break ends
The breaker ships out the cards to the users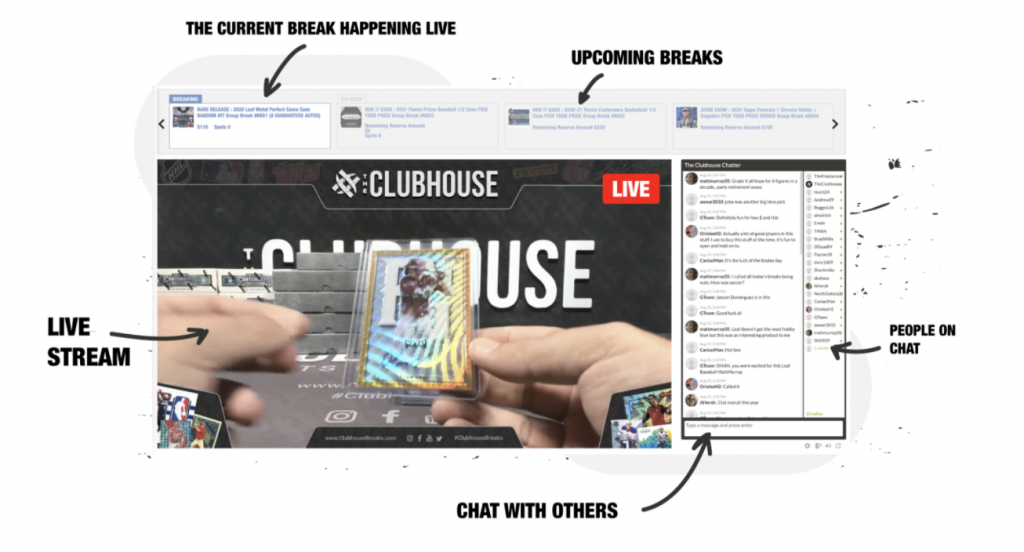 Typically, there are multiple group breaks back to back. A breaker could do a hockey, baseball, and football break in one sitting, which could take multiple hours.
For example, our Pick Your Price breaking method is a great way to choose what you pay for a group break.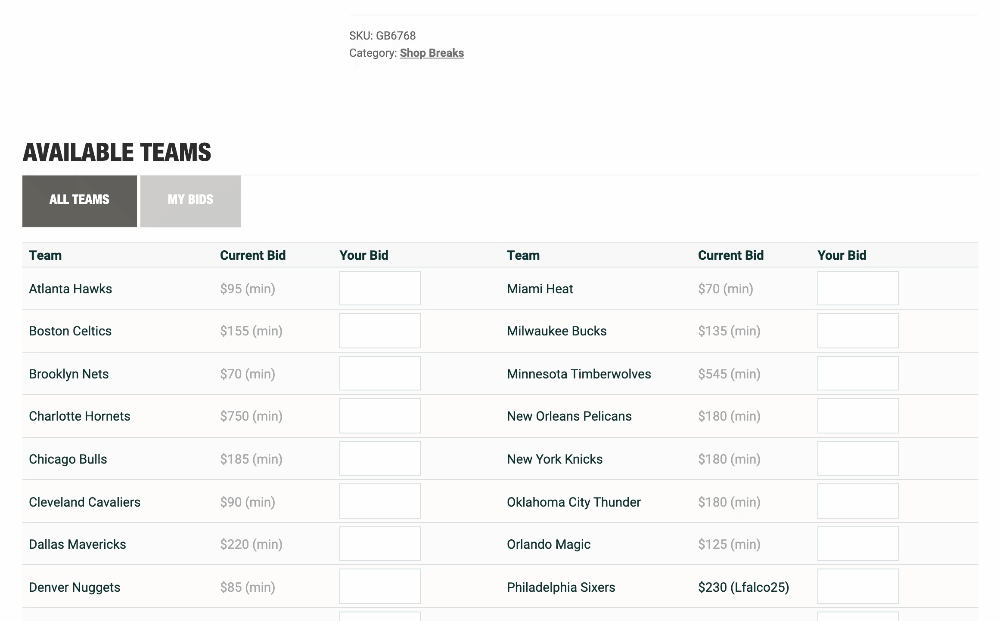 Marketplaces (eBay)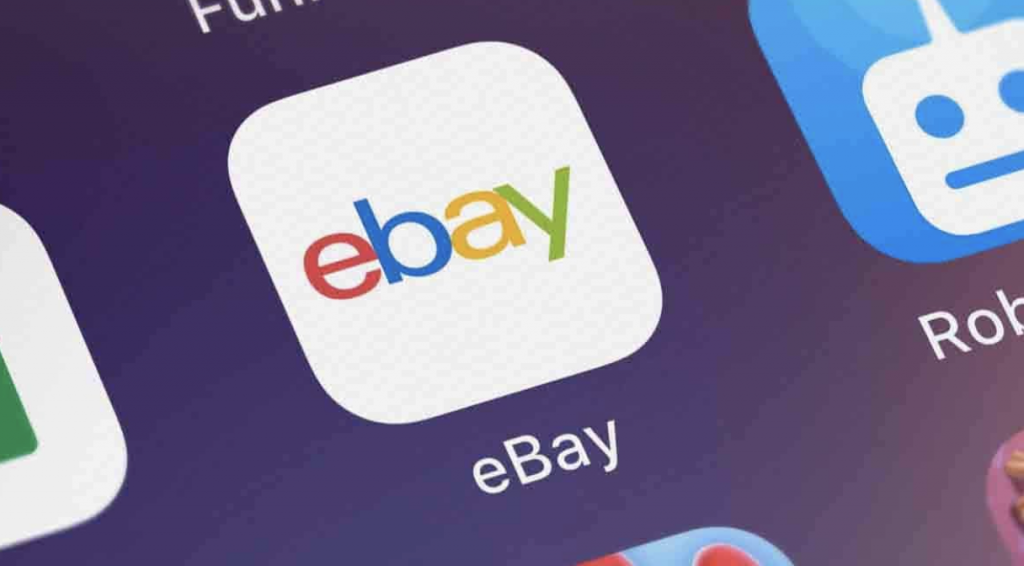 For the longest time, eBay has been perceived as superior when it comes to buying, selling, and trading sports cards, but the platform has fallen behind as other sports card companies paved the way for how to buy.
Here's the top things you should know about buying sports cards on eBay and other marketplaces:
Sports cards on eBay are sold in lots, collections, or individually
Box/case prices on eBay are often extremely cheap. There are some hits, but a majority of these cards are worthless.
Always check the seller's rating before you buy. A 99.8% or above is what you're looking for.
Be aware of buying items like "mystery boxes." These are gimmicks.
It's not uncommon to find individual offers that go higher than the "buy it now" price.
Buying sports cards on eBay or other marketplaces like this is cheaper, no question. But that typically means there are a lot of throwaway cards.
A quick search for "sports cards" and this is what we get: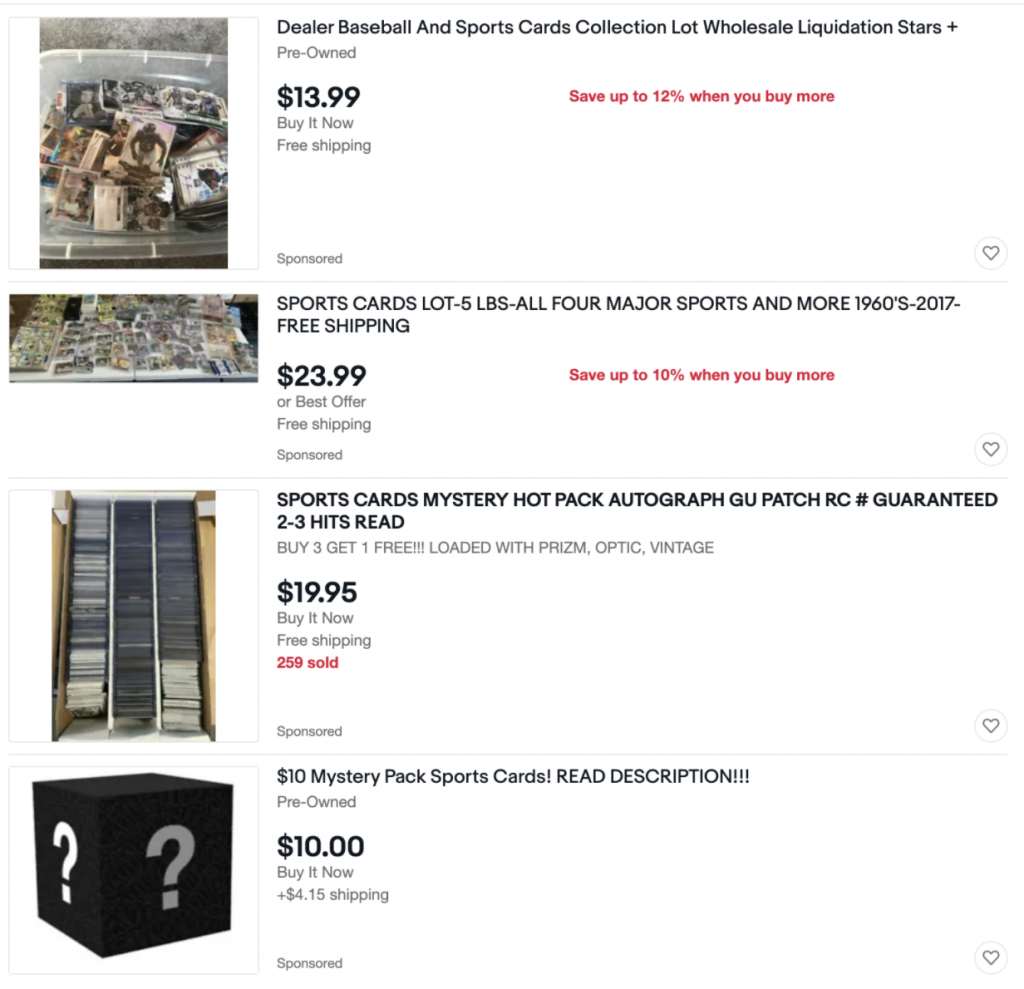 For eBay, it's better to know the specific sports cards you're searching for instead of finding lots or cases to buy from.
Online Retailers (StarStock, StockX)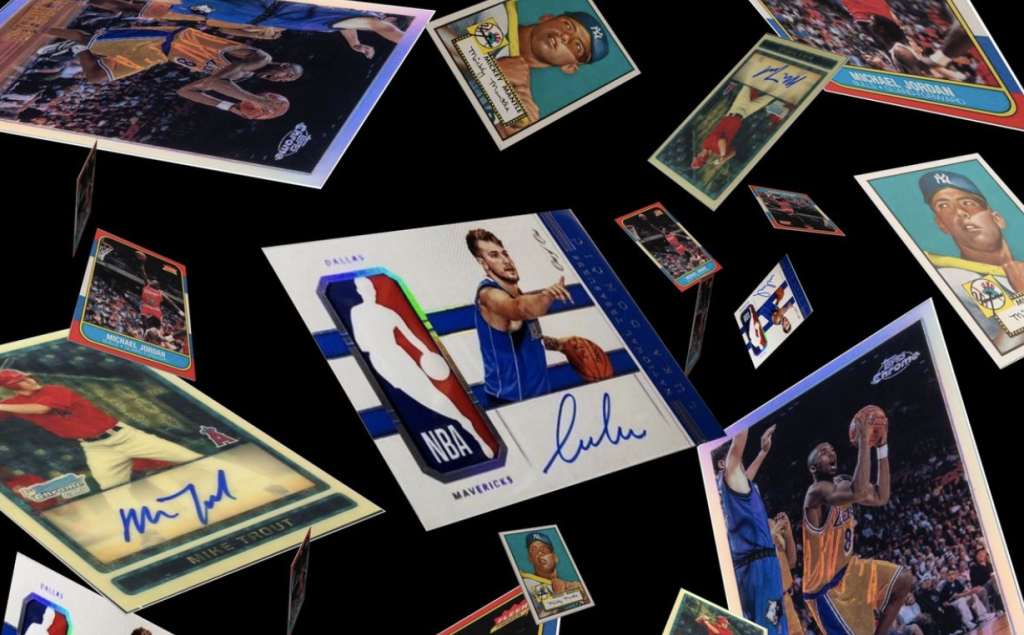 Online retailers like StockX and StarStock are a great place to buy cards. They allow traders to limit their search based on the condition of the card and their budget. It's almost like buying anything else online, but it's sports cards.
Here are the top things you need to know about buying sports card from online retailers:
Sports card prices can range from $0.30 to over a thousand dollars per card
Like eBay, you can bid on the cards
Sports cards are often pre-graded based on condition
Typically there are no return policies
You can find great deals on rare items
You already should have an idea of what players and teams you want to buy from
We like StarStock because you can find deals on the specific players you want. You can search by sport and player.

Once you find what you're looking for, you can even purchase by grade. The interface is clean and simple to use.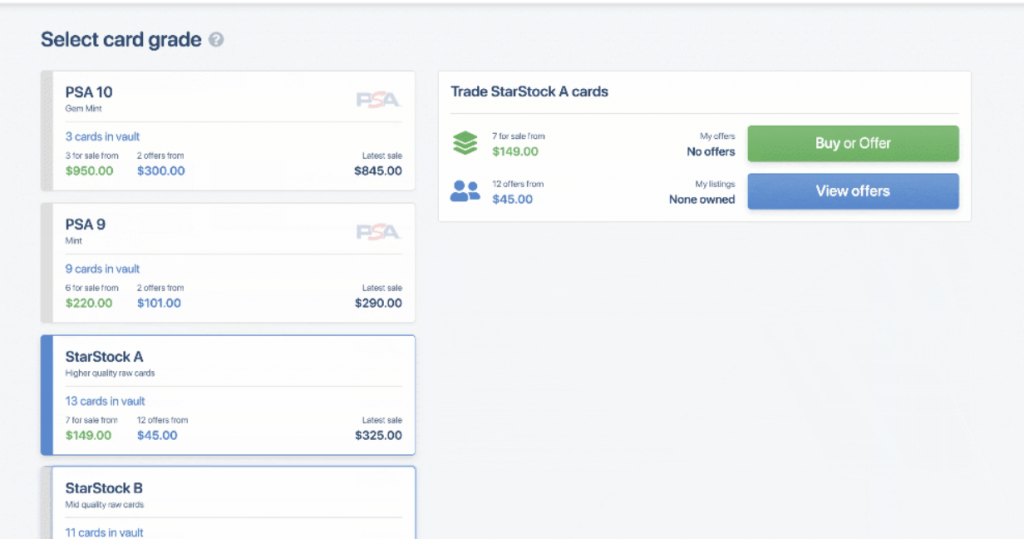 You can buy from Facebook Groups, Instagram profiles, and forums, but we strongly advise against this. We've heard so many stories of people being burned. You never know who you're buying from and if it's secure.
What Sports Cards Are Worth Money?
Sports cards are typically valuable if they have one or more of the following factors:
They are rare (view print runs or cards left)
The card is a rookie
The card is in excellent condition
The player is popular (they are in the news, hall of fame, or have died)
The card has special features (a piece of a game-worn jersey or autograph)
Sports cards that have become valuable due to their scarcity include older cards like the 1951 Topps Mickey Mantle, 1952 Bowman Willie Mays, and 1959 Topps Jimmie Foxx. But newer and modern cards can still have that same rarity.
We pulled a Jason Tatum & Donovan Mitchell Dual Logoman 1/1 that sold for $21K on eBay.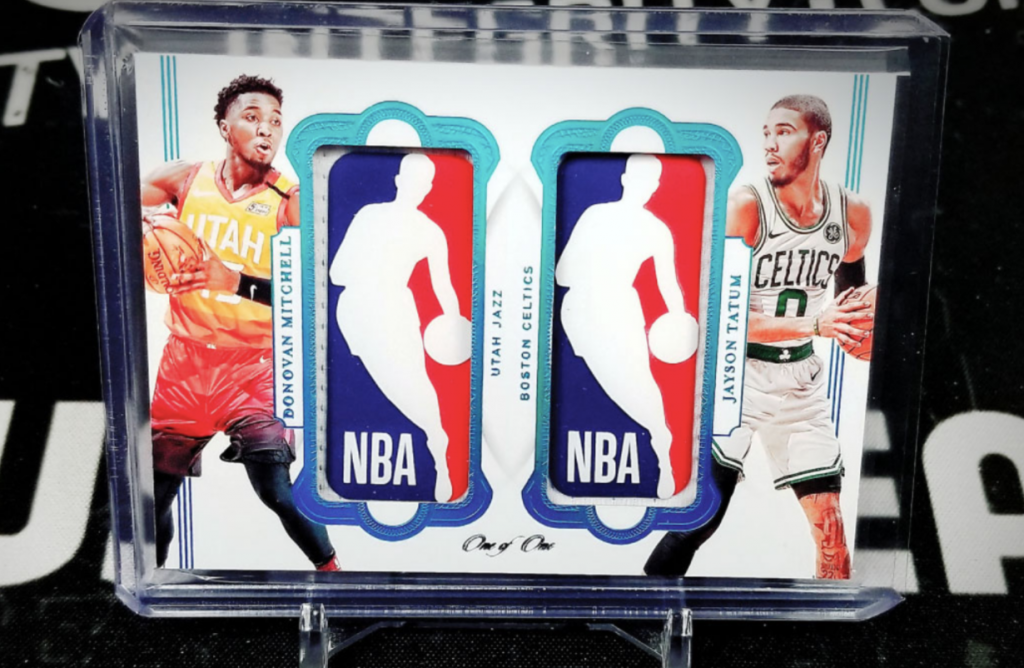 Rookie cards are harder to gauge simply because they are rookies: you don't know how they are going to perform long-term and if they will keep the buzz going.
On the other hand, rookies that are not off to a hot start now could kill it in the next two to three years and become an all-star player, making their rookie card worth a fortune.
We like to recommend that you stick to the big three when trying to find out if a card is worth money: (1) Is the player popular, (2) is it in excellent condition, and (3) does the card have some special feature that makes it rare.
Buy Sports Cards from a Trusted Breaker
We've been breaking for over 10 years and over 10,000 collectors, investors, and hobbyists trust us to find them case hits. We value honesty, integrity, and providing as much value as possible.
Click here to shop our breaks. We break every weekday at 4 PM EST time. Or, join our private Facebook Group here where we talk about all things sports cards.