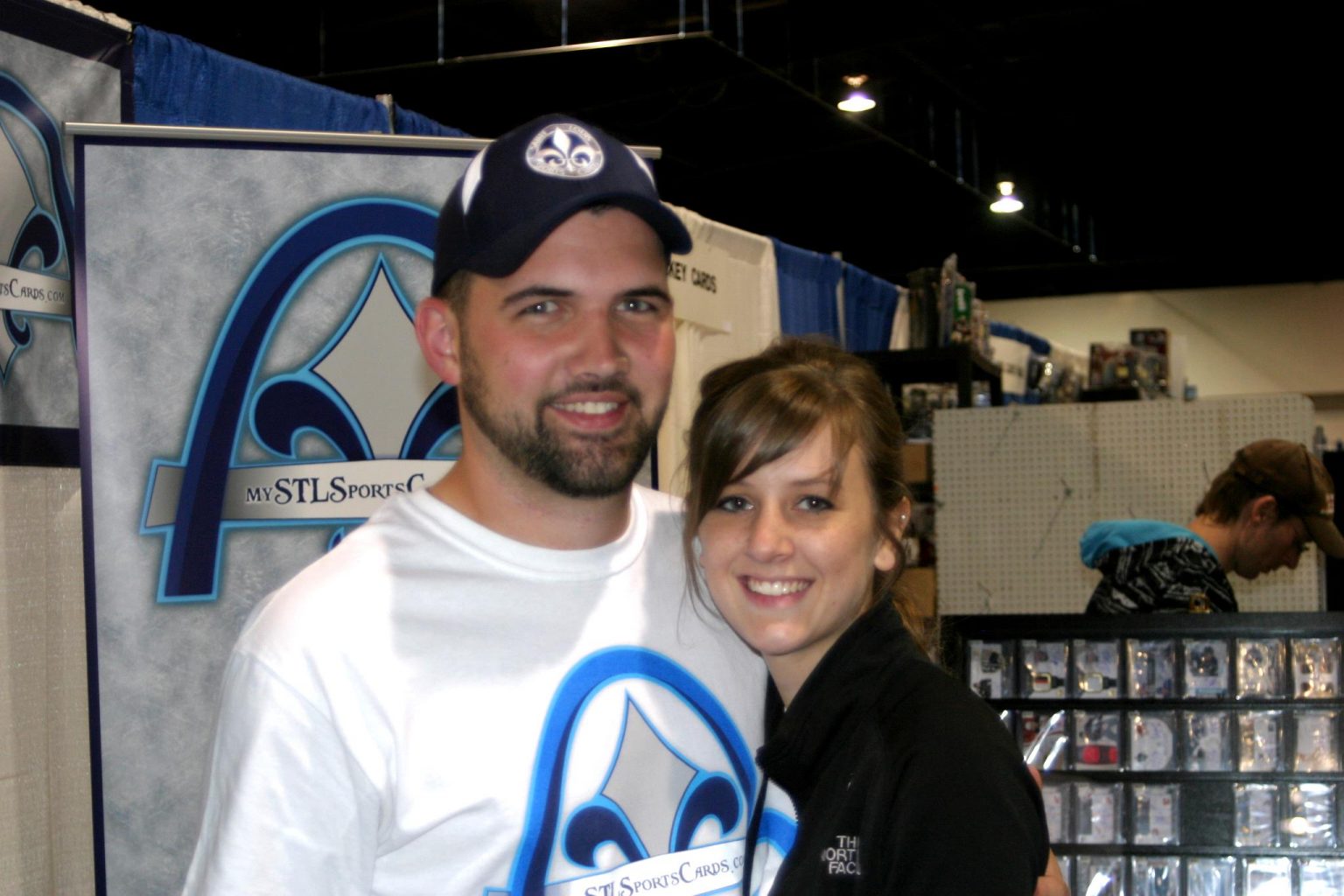 People often ask me, "What do you do? How did you get into the breaking industry?" I will touch more on that later…
This all started when I was all of 3 or 4 years old. My dad would take my brother and I up to the local card shop that doubled as a travel agency. We would look through the cards, and more times than not come home with some loot. Year after year, Sports Cards were always at the top of my Christmas list. It was the gift that you got to open TWICE! Most of my Christmas gifts were factory sets and blaster boxes, and in the 90's there wasn't a lot of 'wow' factor like there is today, so when I pulled that Chipper Jones auto out of a Topps Blaster, I was HOOKED on the chase!
Fast forward to my college years. I was fortunate enough to land an academic full-ride to Missouri Baptist University and that is where I ultimately connected with a life long friend (and now my wife) Melissa. We got married in 2009 and were BOTH still in school getting degrees in Religious Education, while I was working as a Youth Minister at a church in St. Louis. We were BROKE! So I got creative! I set up an online shop selling Sports Card singles (on ecrater) and regularly filmed Youtube videos of me opening my mail (maildays). The few viewers I had started asking me if I would host a Box Break and let them buy in… after scrounging together the cash to go to my LCS and buy a box of 2010-11 Upper Deck Artifacts Hockey we were off and running!
Over the years we have had opportunities to advertise and grow our audience by 'throwing money at it' but that has never appealed to me. I have always wanted to grow this thing organically. I want to get to know people, to build a true community.  A family of collectors that doesn't rely on me to lead it, but is built on the principles of Honesty and Integrity. A community that consists of people so excited about what THEY have built that they want to share it with others they know who are missing out! Since 2010 our family has reached all around the globe; from breaking 1 night a week (not even that often) in the beginning, to breaking 5 nights a week (and sometimes more). I pinch myself often as I reflect on where the last 8 Years have taken us…
I get to share this ride, and wouldn't be able to do what I do without Melissa being there for me. She has put up with countless trips to go break at events, to attend corporate meetings and to visit with loyal members; she has dealt with breaking until 2 AM while she can hear me in the next room over. The whole time she has supported me chasing my dreams (and the next big hit) and without her blessing, none of this would have ever come to be.
To answer the curious people who wonder what and how I do what I do… I am blessed beyond imagine to have founded a community of passionate sports collectors, that have become family, and get to spend every day enjoying our hobby with them. I didn't choose to do this, it just… happened. I am that same 4 year old, digging through cards, just in a mans body… with a 2 Year Old who I hope one day has the same passion for his hobbies as I do for mine!